Large vehicles, like trucks, can cause devastating damage in accidents, especially if the accident involves pedestrians, cyclists, or motorcyclists. A truck accident is not only a traumatic experience, it can have life-changing consequences for victims. If you or a family member has experienced a personal injury in a truck accident in Brentwood, contact our truck accident lawyer at Meyers Injury Law to discuss your legal options for filing a claim or lawsuit against the at-fault party.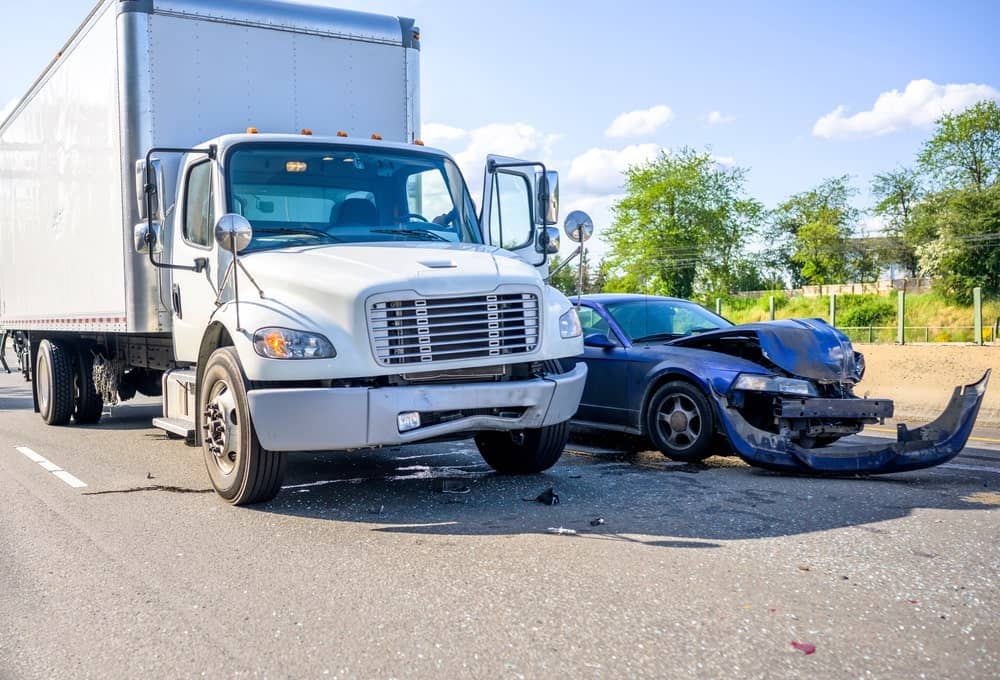 Common Causes of Trucking Accidents
One of the common causes of truck accidents is driver error. Driving a truck requires skill and experience. According to a study by the Federal Motor Carriers Safety Administration (FMCSA), driver error is 10 times more likely to be the cause of truck accidents than any other factor. Driver error could be caused by distracted driving, driver fatigue, or other reasons.
Another major cause of a trucking accident is inadequate driver training, which is the fault of the trucking company. Trucking companies need to emphasize the importance of truck driver training and facilitate training sessions for their drivers. The drivers also have the responsibility to use that training while behind the wheel.
The trucking industry is heavily regulated, and truck companies have a responsibility to keep up with all the required maintenance for their commercial trucks. In addition, they need to ensure their truck drivers get enough rest and are not overburdened by demanding schedules. A company's priorities can play a key role in avoiding truck accidents.
Equipment failure or other malfunctions of the semi-truck can also lead to truck accidents. The truck manufacturer could be liable for accidents caused by manufacturing defects. If the accident was caused by poor maintenance, then the trucking company or maintenance company could be held liable. Equipment failure in trucks include improperly inflated or worn tires, faulty brakes, transmission failure, and unbalanced cargo. To learn more about the challenges of truck accident cases and how to overcome them, contact our truck accident lawyer.
Protect Your Rights as a Truck Accident Victim in Tennessee
The first thing that truck accident victims need to do after the truck crash is call 911 so everyone involved in the accident can get the medical attention they need. The police will likely make an accident report. You can obtain a copy of this report to use as evidence in your personal injury claim.
Ideally, you want to document the scene of the accident by taking photos and speaking to witnesses. Exchange your information with the truck driver and anyone else involved in the accident. You also need to notify your insurance company. Perhaps the most important step is to call a truck accident lawyer. You can call us at Meyers Injury Law.
What Makes Truck Accident Claims So Complex?
The reason why truck accident victims often need to hire an experienced accident attorney is because of the complexity of these cases. There are several reasons why truck accident claims or lawsuits are complex. Whether the accident happens between two trucks or smaller vehicles are involved, truck accidents often result in severe damage, including serious injuries and property damage. This adds to the complexity of the case.
In addition, there can be multiple parties who share liability in a truck accident. This includes the truck driver, truck company, truck manufacturer, cargo loading company, other road users, or the truck maintenance company. Establishing the percentage share of fault can be challenging as each party will try their best to deflect blame and reduce their liability.
You may also have to deal with multiple insurance companies as different liable parties mean different insurance companies. As a truck accident victim, you could be up against a trucking company that is ready to deploy vast resources to protect its business and reputation and minimize their payout.
How Can Brentwood Truck Accident Lawyers Help?
While trucking accidents are complex, if you hire an experienced truck accident attorney who is well-versed in truck accident law, you can focus on recovering from your injuries. The attorney can handle all the legal paperwork, communicate with the insurance company, and improve your chances of maximizing your truck accident claim. To consult a Brentwood truck accident lawyer, contact our law firm. If you've been personally injured, explore your legal options with our dedicated personal injury lawyer in Brentwood.