If you are the victim of a burn injury, you may feel like there's nothing you can do. Our leading Nashville burn injury lawyer Chadwick Meyers of Meyers Injury Law can seek the compensation you deserve. Rated as the best personal injury in Nashville and listed on the Top 40 Under 40 by the National Trial Lawyers Association, he will work tirelessly to represent and fight for you.
Burn injuries can cause severe damage to your body's tissues. Burns can destroy the outer and inner layers of skin and tissues. Sometimes burn damages are irreparable. If you've been injured in a burn accident, you may be entitled to financial cooperation under Nashville, TN personal injury law.
A burn's degree and category help decide the compensation the injured party can claim from those legally responsible. Burn injuries can be devastating and leave burn injury victims with physical and emotional scars.
A Nashville burn injury lawyer from Meyers Injury Law is prepared to represent accident survivors in negotiations and trials. Contact a seasoned Nashville burn injury lawyer today to schedule a free case evaluation.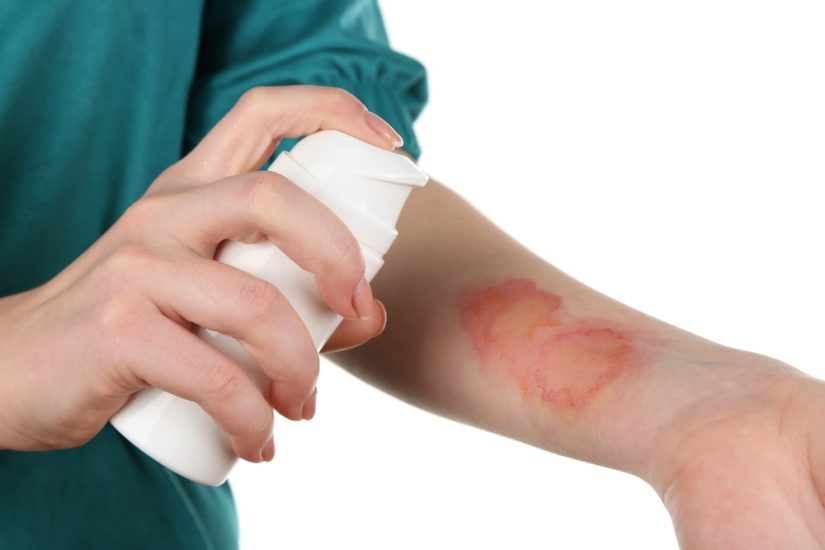 Types of Burn Injuries
Physicians typically classify burn injuries on a sliding scale, depending on the amount of damage suffered by the victim:
First Degree Burn
First-degree burns are minor and affect only the outer layer of the skin and dermis. First-degree burns do not blister or permanently scar the skin. You may need emergency attention if you suffer a first-degree burn if it covers a large area of your skin.
Second Degree Burn
Second-degree burns affect both layers of skin tissue. They typically cause blisters to form, require medical attention, and may cause scarring. If you've experienced severe injuries in Nashville, Meyers Injury Law is prepared to help you recover what you've lost.
Third Degree Burn
Third-degree burns affect both layers of skin and the fat beneath the dermis tissues. Third-degree burn injury victims can experience damage and destroyed nerves in and around the areas affected by their burns. Most serious burns require emergency assistance. Some third-degree burn victims may require surgeries and skin grafts to ensure they heal properly.
Fourth Degree Burn
Fourth-degree burns will affect the muscles, tendons, and bones beneath the skin. These are the most serious kinds of burns. Fourth-degree burns can result in amputations. If you've lost a limb because of a burn injury, you could be entitled to damages. Don't hesitate to speak with an experienced burn injury law specialist because TN has the shortest statute of limitations in the U.S.
Burn Injury Complications
Burns can have serious ramifications to your body and mind. The most common is infection or sepsis. Infected burn injuries require additional surgeries or possibly amputation. Nashville burn injury attorneys see cases involving the following life-threatening complications caused by severe burns:
Respiratory problems from smoke inhalation and burned airways
Hypothermia from losing protective layers of skin
Major scar tissue development that impairs movement
Some victims experience fatal injuries and do not survive their burn accident complications
If you've suffered burn injuries that have led to excess stress, medical bills, and pain and suffering, consider sitting down with a personal injury attorney. They'll learn the details of your case, investigate and litigate your personal injury cases on your behalf, and work on a contingency basis. That means they don't get paid unless you do. 
Common Causes of Nashville Burn Injuries
Burn injuries can occur in different ways and therefore get categorized according to what caused the burn injury. The most common burn type is a thermal burn. Thermal burns are caused by contact with hot objects, such as fire, steam, or heated metal.
Chemical burns come from contact with harsh chemicals. Chemical burns can dissolve the skin tissues, bleach or darken the skin, cause painful sensations, affect breathing, or cause tissue necrosis.
Electrical burns happen because of live electrical wires, electric fences, electric components, or lightning. Electrical burns can cause significant damage internally as the electricity passes through your body. Electrical burns can cause tissue damage and organ damage as well.
Radiation burns can arise due to contact with powerful ultraviolet light or x-ray beams. Radiation burns are the least common type. If you've experienced a burn injury, a Nashville burn injury attorney possesses the knowledge and fortitude to take your claim to trial if necessary to recover compensation for your personal injury damages. Call us today for your free no-obligation consultation.
FAQs about Burn Injury Accidents
Severe burns can cause exorbitant medical bills, lost wages, and more for a burn victim. If you desire to seek compensation for physical therapy, medical treatment, and more, then consider sitting down for a free consultation with burn injury lawyers.
The steps you take to prevent and repair your burn injuries can affect your claim. That's why personal injury lawyers always recommend working with an adept attorney with experience in your Nashville community. Read on for ways that Meyers Injury Law has provided answers for all of their clients' most urgent questions.
What Are The Steps to Take After a Burn Injury in Nashville, TN?
If you were burned in a car accident, at work, or on someone else's property, follow these steps to protect your health and possible future legal claim:
Seek medical attention to minimize the long-term impact of your burn injury. This is also a crucial element of any personal injury claim. See a doctor, tell them about the pain you're experiencing and injuries you've suffered, then keep records of every prescription, treatment, and doctor visit.
Document your injuries because they will hopefully change for the better over time. If we have to take your case to trial, it may be months before a judge and jury evaluate your claim. By documenting your injuries, you ensure that you can be reimbursed for your medical recovery expenses, even when you've already recovered.
Contact an attorney because they will know all of the varying legal options you're unaware of. A lawyer can investigate how the at-fault individual's actions led to your injuries and handle communication with them, their legal team, and their insurance company.
For anyone who has been injured in motor vehicle accidents, building fires, needed reconstructive surgery because of a house fire, apartment building fires, or chemical exposure or chemical burn, a law firm can help you recover financial compensation.
Before you can recover the high medical costs in your personal injury case, you'll need to prove how the negligent party acted recklessly.
How Do I Prove Negligence Caused My Burns?
To prove negligence caused a burn injury, a Nashville burn injury attorney will investigate the scene of the accident, interview eyewitnesses, hire experts to run tests on materials, and keep meticulous details of the accident scene like photos and videos.
Why Do You Need a Burn Injury Lawyer?
Your Nashville burn injury attorney can explain if you have a valid claim for compensation under Tennessee law. A Meyers Injury Law attorney will do all of the following to offer support as you recover and seek compensation for your burn injuries:
Gather and secure relevant evidence, including fire department reports, police records, and photographs of the scene of the accident
Review medical records and reports prepared by your physicians
Work with medical experts to evaluate the extent of your injuries and the costs associated with any necessary future medical procedures or rehabilitation services
Retain the services of safety inspectors, electricians, or accident investigators to help establish the cause of the accident and determine who may be held liable for your injuries.
Why Should I Contact an Experienced Nashville Burn Injury Attorney Today?
Nashville burn injury attorneys can settle your claim so you don't have to deal with bad-faith insurers or negligent perpetrators. A personal injury law firm can help you to focus on recovering your health and the other elements of your life affected by a burn injury.
Our Nashville burn injury attorney at Meyers Injury Law is committed to the passionate pursuit of justice under the law. We've successfully recovered millions of dollars every year for the clients we represent. Let us fight for your maximum compensation by contacting us about your case.