Nashville Slip and Fall Lawyer
Slip and fall accidents happen for all kinds of reasons, but don't let a property owner blame you for their mistake. Get the Nashville slip and fall lawyers at Meyers Injury Law to stand up for your legal rights. Our leading attorney Chadwick Meyers is named the best personal injury attorney in Nashville and is listed on the Top 40 Under 40 by the National Trial Lawyers Association. Let us help you recover the compensation you need.
Every year, slip and fall accidents lead to severe injuries. If you were injured because you slipped or tripped in a business or public area, you should speak with a Nashville personal injury attorney to discuss your case.
With premises liability, it is imperative to understand your rights before making any statements to an insurance adjuster or a representative of the property owner. When you need a personal injury lawyer in Nashville, TN, turn to Meyers Injury Law to fight for your rights.
Insurance companies often blame innocent victims in slip and fall accidents when the property owner's negligence is the reason for the injuries. If you were hurt on someone else's property, you may be able to seek compensation for medical expenses, lost wages, pain and suffering, and more. Contact us today for a free consultation with a Nashville slip and fall lawyer.
What Are Common Slip and Fall Injuries?
In a slip and fall accident, some people may have minor injuries that heal quickly. However, serious injuries can result from a slip and fall accident, leading to permanent disability.
According to the CDC, 3 million people aged 65 and older suffer from slip and fall accidents. One out of every five of these falls leads to a serious injury, which can include broken bones or a head injury, with traumatic brain injuries being the most common result of these accidents.
The graphic below provides more grim statistics about the nature of a slip and fall accident. For people aged 64 to 85, it is the second leading cause of injury-related death. More than 8 million emergency room visits per year are due to slip and falls; often, someone else's negligence in keeping their property safe is to blame.
Your Nashville slip and fall attorney from Meyers Injury Law has seen the damage from a fall injury:
Severe sprains and strains
Broken, fractured, and dislocated bones
Lacerations and puncture wounds
Neck and back injuries
Traumatic brain injuries (TBI)
Internal organ damage and bleeding
You must protect your physical health after suffering a Nashville slip and fall injury. Let us work to protect your legal rights and pursue justice. We believe every negligent property owner should be held responsible for shirking their responsibilities. We will do whatever it takes to support you in your slip and fall case to the fullest extent.
Who Has Liability for a Slip and Fall Incident?
Nashville slip and fall attorneys are tasked with proving that the property owner is at fault for the dangerous condition that led to your accident. We will prove that the owner is liable due to their negligence. It is a challenge, but it is one we take on to help slip and fall victims.
Various factors will be considered when determining the liability of property owners. One of the most important considerations is whether or not a business owner has a duty of care. Owners of public properties such as restaurants, supermarkets, or hotels have a legal duty to keep patrons safe.
However, this same legal responsibility will generally apply to private property owners. The duty will change depending on the relationship between the slip and fall victim and the property owner.
If you are an invitee, as most visitors are, you are permitted to be there; hence, the owner owes you reasonable care. This is undoubtedly the case when you shop for groceries at the supermarket or dine at a restaurant.
In short, the duty of care requires an owner to ensure that dangerous conditions do not exist on the property. If something is deemed a hazard, they must repair it as soon as possible to maintain a safe environment for invitees.
Unfortunately, accidents can and do occur in the most mundane of ways. You may be shopping at a store when you slip and fall on a wet floor. If there were no warnings to alert you to the hazard, and you were hurt, you may want to pursue a slip and fall claim.
You should not have to do it alone, as the insurance company will try to fight your claim. You need the experienced Tennessee slip and fall attorneys at Meyers Injury Law to fight for you. Contact us today for a free case review and to discuss your legal options.
When the owner knew or reasonably should have known about the potential for disaster on their property that led to your slip and fall incident, you may be able to recover compensation. This can cover your financial losses from medical expenses and lost income to mental anguish and pain and suffering.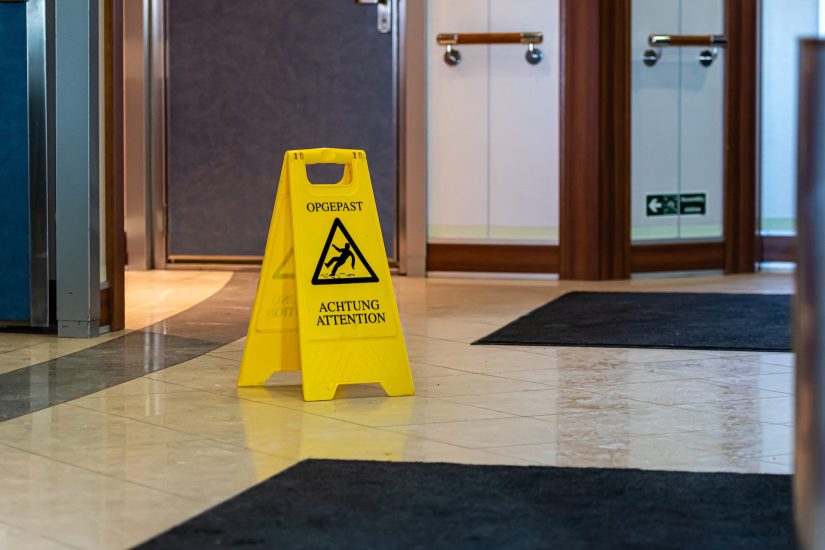 What Should I Do After a Slip and Fall Accident in Nashville?
If you were hurt in a slip and fall accident, there are a few things you can do to help your slip and fall lawyer get the upper hand. After you are injured, the first step is to document your injuries with photos. Take photos of the property scene to capture the evidence since many owners will immediately take steps to conceal the hazard that caused you to become injured. If they repair the conditions and you have no photos of how it looked when you were hurt, you may not be able to prove they were liable.
Another tip from your slip and fall attorney is never to record an interview with the insurance company. Let our personal injury lawyers speak on your behalf instead. Insurance companies will do everything they can to pay the bare minimum. You do not want to say something that could result in a smaller settlement or accept an inadequate settlement that doesn't cover all your expenses from the injuries.
What Is the Statute of Limitations for Slip and Fall in Tennessee?
In Tennessee, personal injury claims like slip and fall accidents have a statute of limitations that begins one year from the accident date. You must take action and prove negligence was a factor in your claim.
Determining liability alone can be difficult, especially as you try to heal from serious injuries. Contact our law firm today to get more – more compassion, more experience, and more compensation for your slip and fall.
The Nashville slip and fall attorneys at Meyers Injury Law will work to get you compensation for your injuries. Every year, we recover millions of dollars for our clients and will seek the maximum compensation for you.