Nashville 18 Wheeler Accident Lawyer
The National Highway Traffic Safety Administration (NHTSA) reports that there were 4,965 fatalities involving large trucks in 2020, with 165 of those happening in Tennessee. The majority of those fatalities were drivers of other smaller vehicles. With most of these truck crashes taking place on weekdays during working hours, it's clear that large truck crashes are a serious hazard to be aware of.
The Nashville Truck Accident Lawyers of Meyers Injury Law are here to provide needed legal services for accident victims involved in collisions with large trucks.
Contact Meyers Injury Law today if you or someone you know has been in one of these accidents. There's no need to suffer alone, and no good reason not to explore the range of legal options that could be available. At Meyers Injury Law, the firm's legal experts will carefully evaluate your situation to see if you've got a valid case. Contact us today for a free consultation.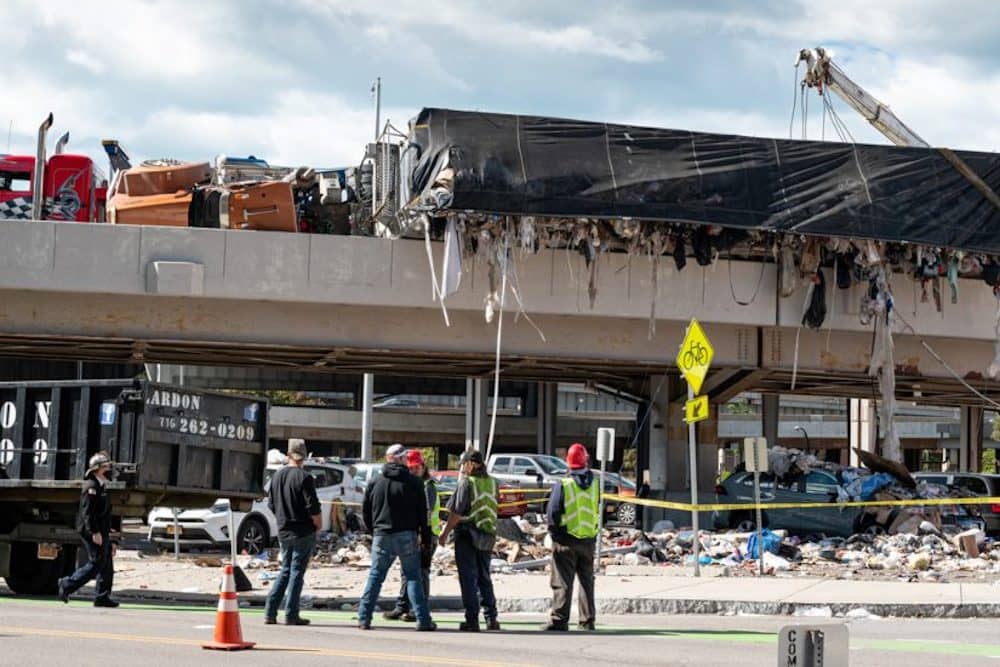 Key Considerations and Statistics
Having the correct knowledge about large truck crashes can empower drivers to successfully avoid becoming victims. Having the correct information can aid drivers in staying appropriately vigilant when they encounter large trucks on the road. Here are some stats about 18-wheeler accidents.
Number of Truck Collisions
Truck crash deaths consistently account for around 10% of all motor vehicle crash fatalities in the United States. In Tennessee, fatal truck incidents have numbered over 100 and under 200 for most of the last two decades. 
Large Truck Crashes and Fatalities
Approximately 75% of fatalities in large truck crashes involve a tractor-trailer. The remainder involves collisions with trucks that are not towing a trailer. In over half of fatal large truck crashes, two or more vehicles were involved in the incident.
Large Truck Crashes and Victims
Few fatalities in crashes involving large trucks result in the driver of the truck losing their life. The overwhelming majority of fatality victims were drivers of other cars. Motorcyclists, pedestrians, or bicyclists often account for the number of fatalities involving large trucks.
Large Truck Crash Locations
Rural areas are the most common location for large truck-related crashes and fatalities. Interstate incidents account for the second most common location. Large trucks have the least number of crashes in cities.
Large Trucks and Safety Violations
According to surveys among truckers, safety violations are at the core of many large truck accidents. Drivers sometimes violate the federal mandate to not drive more than 11 hours in a day. As a result, there are many fatigued truckers on the roads gambling with the lives and health of others.
Common Causes of 18-Wheeler Accidents in Tennessee
Mayers Injury Law handles 18-wheeler accidents of all types. Because of this, we have seen large truck accidents happen for many reasons. Below are the most common causes of large truck accidents:
Driving while distracted
Driving under the influence
Faulty truck equipment
Following too closely or tailgating
Improper lane change
Poorly trained truck drivers
Rookie driver mistakes
Poor truck maintenance
Mechanical malfunctions
Speeding
Ignoring state and federal safety guidelines
Driver error
Unsecured cargo
Liability in 18-Wheeler Accidents
Finding who is responsible for the accident is paramount in 18-wheeler crashes. Proof of responsibility is a key factor in collecting compensation for your damages. 18-wheeler crashes tend to include two or more automobiles, and as a result, liability is often more challenging to prove than the average crash. Understanding how you can help could prevent many problems.
The driver, the trucking companies, and the vehicle parts manufacturers must all be scrutinized. Additionally, the loading and shipping companies, truck maintenance companies, and cargo loaders need to be looked at too. Lastly, if the owners of the truck and trailer are subcontracting for a shipping company, that company also needs to be examined.
With all of these variables, it's important to let an experienced truck accident attorney take the reins and find out who was responsible for the accident that caused your suffering and losses..
Securing Settlements in 18-Wheeler Accidents
When there has been a truck accident, the victims will likely be dealing with the insurer of the trucking company. Negotiating with these companies can be a long, tedious, and intimidating process. The insurance company will play hardball because its bottom line is profit.
The chances of receiving a fair settlement for being injured in an 18-wheeler accident increase greatly when you work with a reputable law firm. That's where Meyers injury Law comes into play. Our knowledge in the field and experience winning settlements for injury victims gives our clients the advantage when it comes to investigating the accident and negotiating a reasonable settlement.
All victims of 18-wheeler-related accidents in Tennessee should work with Meyers Injury Law to recover compensation for their damages. The trucking companies and insurance companies are far too well equipped to be defeated by the average injury victim. Let your Nashville truck attorney work for you.